SSI is short for Supplemental Security Income. It is a federal program that provides monthly cash payments to millions of low-income individuals who are blind, disabled, or age 65 or older. SSI benefits are also available to blind and disabled children. The purpose of SSI is to provide money for basic necessities such as food, clothing, and shelter for individuals who are not otherwise able to afford them.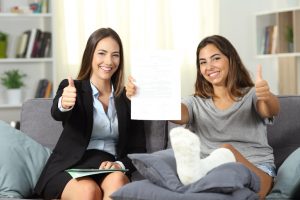 Do you need supplemental security income help in Las Cruces? Call Us 
If you have applied for SSI benefits but were denied, you may still be able to obtain them by promptly filing an appeal with the help of an SSI attorney serving Las Cruces, New Mexico. Michael Armstrong Law is a New Mexico law firm that exclusively represents individuals with respect to Social Security claims and appeals. Every SSI lawyer at our firm serving Las Cruces, NM, is a compassionate legal advocate who is tirelessly committed to helping each SSI claimant they represent get the benefits they deserve. Michael Armstrong Law has successfully handled thousands of SSI cases and will be pleased to discuss whether an SSI representative from our firm can be of assistance to you in the Las Cruces area.
SSI Attorneys in Las Cruces
An SSI lawyer from Michael Armstrong Law does not typically assist in filing your initial SSI application because you may be awarded benefits without our help. However, if you are denied, an experienced SSI attorney on our team will help you navigate the SSI appeal process. That may involve gathering additional evidence about your income and physical condition; preparing you to give persuasive testimony at an administrative law judge (ALJ) hearing; and, if necessary, advocating on your behalf in front of the Social Security Appeals Council or in Federal Court.
Contact us Today For Supplemental Security Income Help in Las Cruces
Do not despair if you have received notice of a denied SSI claim. An SSI representative from Michael Armstrong Law serving Las Cruces, NM, will be pleased to speak with you about your legal options moving forward. Michael Armstrong Law's team is now ready to help you when your initial application has been filed. We are here to get you the benefits you deserve!
Click here to schedule a free initial consultation with SSI attorneys in Las Cruces at our law firm serving all of New Mexico.