Michael Armstrong Law has represented thousands of SSDI claimants – including many who reside in Farmington, New Mexico. The SSDI attorneys on our team serving Farmington are well-versed in all aspects of the SSDI claim process and provide sophisticated counsel with respect to appealing SSDI benefit denials. All of the SSDI lawyers at Michael Armstrong Law are compassionate legal professionals who zealously pursue the best possible outcome for each client.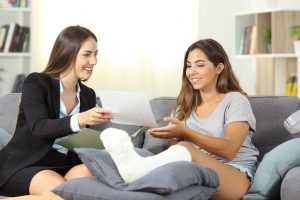 Call Us for a free case review!
The SSDI Claim Process in Farmington, NM Explained
Just because you are injured and cannot work does not mean you automatically qualify for SSDI benefits. The reality is that approximately two-thirds of all initial SSDI claims are denied, with appeals denied at an even higher rate.
The good news is that hiring an SSDI attorney to help you navigate the process can significantly improve your chances of obtaining the benefits you need. An SSDI attorney can, for example, help you gather the necessary medical evidence and put forth a compelling appeal that meets all of the SSDI regulations and timelines.
The following is a brief look at the SSDI claim process after your denial:
Reconsideration
At this stage, your claim will be reviewed a second time by a different examiner. Should your claim again be denied, you may appeal that decision to an Administrative Law Judge who will conduct a hearing.
Hearing
Administrative Law Judge hearings for purposes of determining SSDI eligibility are usually held in small conference rooms. Ideally, an SSDI attorney should both prepare you for and represent you at an SSDI hearing.
Appeals Council
Having your SSDI claim denied following a hearing is not the end of the road. In that scenario, you can appeal the ALJ's decision to the Appeals Council. The Appeals Council will determine whether the ALJ made the correct decision, with consideration of the facts in your case.
Federal Court
A very small percentage of denied SSDI claims are appealed to federal court. Such an appeal is a highly complex matter that should not be pursued without the help of an experienced SSDI lawyer.
Contact the SSDI Lawyers and Attorneys in Farmington, NM Today
If you live in or near Farmington, NM, and would like help pursuing SSDI benefits – either through an initial claim or an appeal – then be sure to promptly reach out to the skilled SSDI lawyers at Michael Armstrong Law. Our team can help you with the initial application, or during any stage of your application process. We proudly serve many New Mexico communities and there is no fee unless we win your case!