Video communications are now becoming commonplace with the COVID-19 pandemic. Schools, doctors' offices, and many other entities have moved to video communication to continue operations.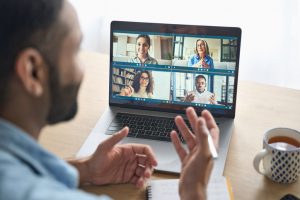 Many businesses have now become entirely remote, and some businesses might stick with this mode of communication even after the pandemic has passed. For this reason, our attorneys are now offering video meetings for our clients.
What video meeting software do you use?
Our attorneys will use Google Meet as our video meeting software.
Am I capable to do a video meeting from my phone?
Google Meet requires a smartphone with a camera.  You must install the Google Meet application from the Play Store or from the iOS app store. This is a free program.  As there are requirements for the operating system on your smart phone, you will need iOS 12.0 or higher or Android 5.0 or higher. If you are using the Gmail application, you will need Android 6.0 or higher.
Am I capable to do a video call from my computer?
Google Meet requires a computer with a built-in webcam or a USB connected webcam. The specifications and operating system needed involve a computer with a dual-core processor and 2GB of RAM memory. You must be using a supported operating system, which are Microsoft Windows, Apple macOS, Chrome OS, or a Linux distribution. You will need to use one of the three most recent major releases of these operating systems. You will also need to be using Google Chrome, Mozilla Firefox, Microsoft Edge, or Apple Safari as your web browser.
Is it safe to do meetings this way?
The answer to that question is complex and, generally speaking, it is safe to use. Google employs encryption in Meet that helps keep any information you might share secure. Anyone who has the Google Meet invite code must request permission to join the meeting and must be approved by the host first, so there is no need to worry about people who might acquire the code joining without permission. But one should also be aware that even with these kinds of precautions in place, there is always a chance that someone might be able to access the meeting.  As such, personal information like birthdates and social security numbers will not be discussed during these meetings.
Why do meetings this way? Am I still able to do meetings by phone?
When it comes to meeting your attorney, we want to provide our clients with options.  It is our goal to ease the tension of meeting with your attorney by beginning these video communications. This is only an option, and you can still conduct your meetings by phone until we are able to fully open our doors to the public again.  All other communications with the firm's staff will still be conducted by phone.
Need an SSI and SSDI attorney who can meet with you via video conference?